New year? New BeestFeest! And you know what? We are having an actual valentine edition! Prepare for an epic night of music and love. Will you take someone home?
Our valentine, the RAGweek, will once again be joining us in the purple hall. You can request songs to be played in the purple hall and donate money to the RAGweek at the same time!
Doors will open at 23:00 and you can enter until 03:00. Be sure to bring all your friends, this edition will be awesome!
You can find the DJ schedule below.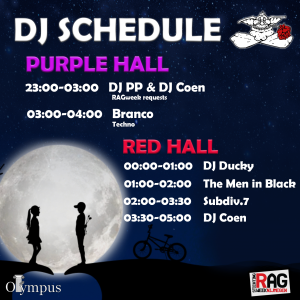 This BeestFeest the RAGweek will play your song requests in the purple hall again! All you need to do to get your favorite song played is give a small donation and request your song at the RAGweek who you can find in front of the purple hall. The more you donate the higher your song will move on the song queue which you will find at our special ragweek website.